Deke Packing Co.,ltd|Tote Bags, Grocery, Produce, & Reusable Shopping Bags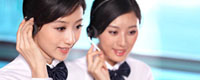 Name: Bill Ni
Tel: 0086-133-06625789
Mobile: 0086-13306625789
E-mail: [email protected]
Add: Room 301, No.71, 21th building,South Shuxiangjingyuan,No.1312 Minan East road, jiangdong, Ningbo, 315040 China
Skype: billnideke
MSN: [email protected]
QQ: 747375550




FRQ
Process of place order:
1. Sent Enquiry to us ([email protected]).
2. We quote price.
3. You think our price is good and place order to us.
4. After we sent PI to you, you make payment of deposit and email us bank slip.
5. We received the deposit and make typesetting for your confirm.
6. After you confirmed the typesetting, we began to make plate.
7. After we make samples, samples will be posted to you for quality check and testing.
8. After sample confirmed, beginning to mass production.
9. If FOB term, customer should find forwarder and tell us forwarder contact info. If you do not know how to find forwarder, we can help you find forwarder.
If CIF or CNF term, we'll find forwarder and deliver goods to your destination port.
10. When goods on board, we sent you Copy of B/L, you pay the balance.
11. After received your balance, we sent you Bill of Loading or telex release.
12. After goods arrived at your destination port, forwarder will notify you to take the goods.
13. We email you packing list and invoice for custom clearance (You can find import agent help you clear custom).
Does all bags are eco friendly?
All bags are eco friendly and reusable.
Why do we need to pay sample fee?
Because bags' print made according to your design, and need plate to print them. The sample fee is the cost of plate and material.
Some material is made especially for you. Customers need to pay the sample fee.
If you buy our stock bags, no sample fee needed.
Why should I pay express fee?
The express fee is paid to express company for their normal operation.
Does sample fee will refund after place order?
For order value above 20,000USD and sample fee less than 300USD. Sample fee will be refund after place order.
If your order value very large, sample fee will be refund after place order.



How contact us?
Name:
Bill Ni

E-mail:
[email protected]
Tel: 0086-133-06625789
Skype:Billnideke
What's APP and wechat: 008613306625789
Linkedin: https://www.linkedin.com/in/bill-nideke-85632585
Address: Room 301, No. 71, 21th. Building, South SHUXIANGJINGYUAN, No.1312 MinAn East Road,JiangDong, Ningbo, 315000.China
Glossary of Terms
Nonwoven Polypropylene (NWPP)
Non-woven polypropylene is obtained from long fibers bonded together during the extrusion process. Since there is no weaving or knitting involved, the nonwoven fabric is water repellent.
PET
PET (Polyethylene terephthalate) is a plastic resin and a form of polyester. PET is the type of plastic labeled with the #1 code on a variety of packaging. PET is commonly used for carbonated beverage and water bottles. It has a high degree of impact resistance and tensile strength. Recycled PET can be used to make a variety of products including reusable bags.
PMS (Pantone Matching System)
Is a color matching system that assigns numbers to over 500 colors from Pantone, Inc. It is considered the standard for color matching in the printing industry.
Polypropylene (PP)
A fabric of fibers made from any of the resins of various thermoplastic resins that are polymers of propylene
Post Consumer Waste (PCW)
Waste produced by the end consumer and not associated with production of another product.
Post Industrial Waste (PIW)
Waste produced by manufacturing processes.
Woven Polypropylene
Woven polypropylene is obtained through two steps: cutting and weaving. Woven polypropylene, due to its sturdiness, is often used in application related heaving loading.